---
Leader of the Month for March 2006:
Tom Berliner
Tom Berliner's story

As shared by Dr. Berliner:

My 'story' is one of evolution. Covey talks about the maturity continuum, that of going from dependence to independence to interdependence. I feel that I have traveled that continuum, more because of the fact that I have been around for quite a while than for any genius shortcut. However, until the last few years, I was living exclusively for this world and not very much concerned with the next. Thanks to an epiphany, I was able to put things in a healthy perspective. I now see the world through a step-back perspective, somewhat less concerned with using binoculars or microscopes than I was previously.

I believe that the best leaders have this kind of perspective and strive to share it with those in their circle of influence. Individual accomplishments come and go. It's the framework that remains. I strive to provide that framework to my students and to my clients.

As offered by an Aurora University MBA graduate student, Joe McCormick:

Professor Berliner's story is illuminated in the classes he teaches; the passion he possesses radiates from him. He puts all he has into his teaching, and it inspires you. The lessons he has gleaned from his extensive real-world experience are enlightening and thought provoking. He is an amazing communicator who has a unique way of offering meaningful insight through stories and lessons that captivate you.

About Tom Berliner

Professor, Author & Consultant

Family: soul mate (Carlene); three children (Julie, Jason and Bina); two grandchildren (Samantha and Sydney); dog (Honor) and horse (Dilly)

Home: Montgomery, Illinois, USA (40 miles west of Chicago)

Current personal passion: My faith

Dream: To make a positive difference in the lives of people, both those that I know and those on whom I may only have a ripple effect.

Place in the world you most like to visit: I have traveled quite a bit in my life so I am not certain that a particular destination draws me. Instead, I like to explore both locally and internationally as a way of breaking from working routines.

Favorite quotation: Colossians 3:23: "Whatever you do, do your work heartily, as for the Lord rather than for me." This is meaningful to me on several fronts. For one, it reminds me of my first and foremost focus. For another, it reminds me that there should be one standard for everything I do.

Favorite book: The Bible. It is the only book that prepares us for eternity.

Professor Berliner is a contributor to the new Focus on Leadership: Book Review section of

www.LeaderNetwork.org. He has involved his MBA students in the process of reviewing pertinent books that will benefit leaders.

Lifetime leadership highlights:
Developing credentials (academic degrees, teaching, books, articles)

Having wonderful consulting experiences, especially extended relationships

Academic colleagues, business colleagues and friends who help me learn and form my own opinion about things

Helping others 'see' things, both as a professor and as a consultant
Tom Berliner has been an organizational development consultant to Raytheon Information Technology. Chris Spears, a senior manager at

Raytheon

, has collaborated with Dr. Berliner on many projects and shares the following thoughts about him:

"I am honored to provide input supporting Dr. Thomas H. Berliner as leader of the month, leader of the year, leader of the decade or leader of a lifetime.

I've always been impressed with Tom's intuitive knowledge and self-effacing manner. In my opinion it is fitting he be honored as leader of the month. The hallmark of Tom's character is his leadership. He has the gifted ability to grow others into leadership positions. An odd but accurate way to describe Tom is as the 'shepherd of leaders.' If you have ever had the opportunity to witness a leader leading leaders, then certainly you can relate to my depiction of Tom as the 'shepherd of leaders.'

Tom approaches the organizational development challenge with an exacting eye that is scientific, thorough, and meticulous. Using Jim Collins's scale as articulated in the book Good to Great, I would describe Tom as a true 'level five leader.' His impact is easily seen in his nurturing relationships, business acumen, integrity of thought and how almost everyone responds positively to his leadership.

Tom is one of the most pleasant individuals you'll ever meet or work with. He is forthright, but neither intimidates nor intrudes. He is genuinely friendly as well as honest. As time passes I become more impressed with his authentic and professional manner. Dr. Berliner has my professional endorsement and my deep personal respect. It is a blessing to be in his company and to have him as a friend."

Tom Berliner and Leadership

Leadership metaphor, story, or analogy: A general once visited a graduate class that I was teaching. He took out a piece of limp string and laid it on the table. He identified one end as the front and the other as the back. He also identified where he wanted the string to wind up (at a spot on the other end of the table). He pushed from the back but, of course, the string did not progress toward the selected destination. Then he pulled from the front and led the entire string right to where he wanted. The point, of course, is that enlisting those around you is a much more successful strategy than mandating their behavior.

Books recommended for aspiring leaders: The Bible; works by Stephen Covey, especially the Seven Habits; Good to Great by Jim Collins; Primal Leadership by Daniel Goleman; The World is Flat by Thomas Friedman (for framing purposes). There are so many good books that it is tough to suggest only a handful. I would be less concerned about which books someone was reading if I knew that he or she was reading consistently. Going to reputable bookstores and listening to respected colleagues will surface those books that will give one a good library.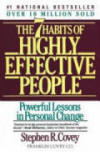 Most admired leader: Jesus Christ. He modeled leadership behavior without falling over his pride. He invited others to see his vision, constantly encouraged those who were receptive and preached the most meaningful messages to his audiences. And, of course, he kept prayer at the center of his direction.
Traits most important in a leader:
Interest in others

Good interpersonal skills (especially listening)

An encouraging approach

Patience

Reasonable risk

Someone to have as at least a sounding board, if not as a coach
Advice for aspiring leaders: Perfection is the enemy of great. Don't be afraid to try things. If you won't push the envelope, you won't get out of it.
What and where are the best training programs for leaders? There are some really excellent ones and some real dogs. An example of the former would be Covey's Seven Habits. When you are searching for something in a particular concentration (e.g., time management), investigate the credentials of the deliverer, the agenda, the deliverables, the number of attendees, the length of delivery, the location and, of course, the cost. With that information – and feedback from those who might have attended it – you can make a wise decision on your own.
Where to Go for More About Tom Berliner