---
Leader of the Month for September 2004:
Mike Krzyzewski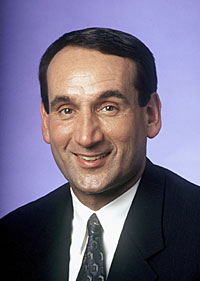 Coach K's story:
Mike Krzyzewski is the author of the New York Times' Bestseller book Leading with the Heart - Coach K's Successful Strategies for Basketball, Business, and Life in which he describes the five fundamental qualities that make a great team. According to Coach K, the essential five qualities are communication, trust, caring, collective responsibility, and pride. Metaphorically, Mike refers to each of the five qualities as one of the five fingers of a fist, and he describes the strength and power present in a fist with all five fingers present.
Tremendous success has taken place in Coach K's organization due to the way his teams exemplify effective communication, trust, caring, collective responsibility, and pride - on and off the court. Coach K has created the model organization that is the envy of the others in his field, and he has ascended to the pinnacle of his profession. Coach K's prowess has transcended his own field and given him universal acclaim as a leader. His great influence has impacted the attitudes and behavior of coaches, managers, and leaders worldwide.
Coach K's leadership style was refined as he attended the United States Military Academy at West Point, played basketball at Army under Bobby Knight, and ultimately became a basketball coach at Army and then at Duke University. He begins his 25th year as the head basketball coach at Duke where he has attained an elite status. Coach K has been honored with induction into the Naismith National Basketball Hall of Fame and been named America's Best Coach by Time magazine and CNN. More importantly, he has exerted tremendous positive influence upon those who have spent time in his organization. He has won the respect and admiration of those within his sphere of influence and has created the standard by which his understudies and former players now function in organizations.
Beyond basketball, Coach K's leadership is found in his books (he has authored three), his speeches (he is represented by the Washington Speaker's Bureau), his educational leadership (he is an executive-in-residence with The Fuqua School of Business at Duke University where they have founded Fuqua/Coach K Center of Leadership & Ethics), and his altruistic pursuits (including his role as Chairman of the Board for the Emily Krzyzewski Family Life Center in Durham, North Carolina).
For his great prowess as a leader and the positive influence he has provided for his followers, Mike Krzyzewski is the Leader of the Month for September 2004.
About Mike Krzyzewski
Author, Speaker, Professor, Head Men's Basketball Coach at Duke University
Currently Resides: Durham, North Carolina, USA
Mike's family: Married to Carol "Mickie" Marsh with three daughters (Debbie, Lindy, Jamie) and four grandchildren (Joey, Michael, Emelia, Carlyn)
Mike's leadership quote: "The truth is that many people set rules to keep from making decisions. Not me. I don't want to be a manager or a dictator. I want to be a leader--and leadership is ongoing, adjustable, flexible, and dynamic. As such, leaders have to retain a certain amount of discretion."
Personal passion: Gardening, his family and his two Labrador Retrievers
Mike Krzyzewski and Leadership
On making decisions: Courage and confidence are what decision making is all about.
On being part of a team: People want to be on a team. They want to be part of something bigger than themselves. They want to be in a situation where they feel that they are doing something for the greater good.
On trust and respect within a team: Leaders show respect for people by giving them time....Every leader needs to remember that a healthy respect for authority takes time to develop. It's like building trust. You don't instantly have trust, it has to be earned.
What are your thoughts on crisis management? If you communicate and trust, a lot of times the crisis turns out to be an opportunity. (When faced with adversity) we took a look at our assets. We didn't look at what we didn't have. We looked at what we had.
How do you form the collective responsibility that you talk about? You win and you lose together. Win or lose, there is always the potential to lose your fist. You have to embrace plural pronouns. We did this. It is always our fault. When something bad happens, it's our responsibility. When something good happens, it's our responsibility.
When asked about winning and losing, Mike states, "If my purpose on this planet was to win basketball games, it would be a bad life." Mike has focused his time and attention on the five fundamental team qualities described earlier. Through that focus on the intangibles of interacting effectively, the winning has taken care of itself. Mike's Duke teams have won more than 75% of their games, and he has amassed well over 600 wins as a coach at Duke.
As an executive-in-residence at The Fuqua/Coach K Center of Leadership & Ethics (COLE), Mike will teach and write on leadership and ethics. COLE was established to advance leadership and ethics through research and education and will convene leading scholars and corporate leaders to advance key leadership and ethics issues.
Where to Go for More About Mike Krzyzewski
Visit Mike's website, www.coachk.com.
Follow the Duke boys basketball program at www.GoDuke.com.
Look for Mike's books and other publications, such as those referenced below.