---
National Leader of the Month for May 2007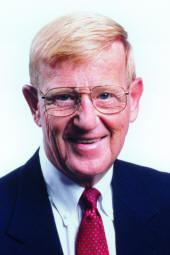 Lou Holtz
LeaderNetwork.org has provided two mediums for you to experience the leadership insights of National Leader of the Month Lou Holtz: read them below and listen to excerpts from a leadership conversation between Brian McCormick and Lou Holtz. In order to begin playing the audio in a separate window, click here
. To download LeaderNetwork.org's leadership podcasts (including the conversation with Lou Holtz), open the podcast player on this website

, or copy and paste the following RSS link into your preferred podcast software: http://www.leadernetwork.org/leadership_podcast.rss.
Lou Holtz's Story
You will learn a whole lot more than athletic techniques from this leader who has spent the majority of his life teaching football. When conversing with Coach Holtz, I am immediately struck by the clarity with which he offers his principles. It is that single-minded focus on the pillars of excellence--coupled with his humility, humor, and candor--that has allowed him to continue to build one successful organization after another.
Lou Holtz is a leader. What kind of leader is he? He is a teacher with the keen insight possessed by an experienced miner of gold. While so many of us haphazardly rush around seeking to identify and latch onto the gold in our environment, we often end up with a shovel-full of iron pyrite (Fool's Gold). Coach Holtz learned decades ago how to spot the gold that we are all seeking. He has an amazing ability to take complex ideas and condense them into simple principles that we can all understand and implement. Once he identified the values necessary for success in life, he has repeatedly employed the methodology time and time again to achieve the same marvelous results.
When asked to share his story, he reveals how he arrived at the level of insight he has achieved to date. He talks about his first head coaching job at William and Mary as a turning point. He had arrived at William and Mary right after winning a national championship at Ohio State as an assistant coach. After having achieved such great professional success as an assistant, he describes the inflated ego that he possessed. In that first year at William and Mary, the team did not achieve success, and he was left humbled, trying to figure out why. He started asking himself questions; for example, "What is it I want in a football team? What is it I want in the people that I am going to work with?" These questions led him to fold a piece of paper in half and generate two lists: on one side he listed the names of successful people and on the other side he listed the names of unsuccessful people. Then, he attempted to determine the difference between the characteristics of the people on the successful side of the page versus the people on the unsuccessful side of the page. What did he find? It wasn't appearance, intelligence, race, religion, or stature that made the difference. The difference between the successful and the unsuccessful people boiled down to three things that the successful group possessed and the unsuccessful group did not: you could trust them because they did the right thing, they were committed to excellence and did everything to the best of their ability, and they genuinely cared about other people. Lou Holtz had learned how to distinguish gold from iron pyrite, and his ability to successfully tell the difference between the two has continued to serve him well ever since. After defining these three characteristics of successful people, Coach Holtz developed the three rules and expectations he has used in his role as a leader: do the right thing, do the best that you can, and show people you care. When considering your feelings about the people with whom you interact, Coach Holtz advises asking the following three questions: "Can I trust you? Are you committed to excellence? Do you care about me?" To see for yourself if the technique works, Coach Holtz suggests putting the method to the test in the following way. Think of two people: one whom you admire and respect and one whom you have a problem with. Answer yes or no to three questions about each person. Can you trust him or her? Is he or she committed to excellence? Does he or she care about you and the organization? With the person you admire and respect, you have clarified why. With the person you have a problem with, you have clarified that either you can not trust the person, he or she is not committed, or he or she does not care.
Lou Holtz is adept at recognizing the rare gold that is hidden amidst all the iron pyrite in the world. For the amazing results he has achieved with his leadership, and his ability to help develop the next generation of effective leaders, he is the National Leader of the Month for May 2007.
About Lou Holtz
Author, Speaker, ESPN Analyst & Famed College Football Coach
Personal Bio: born January 6, 1937, in Follansbee, West Virginia; grew up in East Liverpool, Ohio; married his wife, Beth, on July 22, 1961; has four grown children; currently resides in Orlando, Florida
Professional Bio: serves as a college football studio analyst for ESPN; sits on the board of directors for K2, Inc.; does motivational speaking; has authored three books: The Fighting Spirit, Winning Everyday: A Game Plan For Success, and his latest, Wins Losses and Lessons (released August 15, 2006); the only coach in the history of college football to take 6 different teams to a bowl game, win 5 bowl games with different teams, and have 4 different college teams ranked in the final Top 20 poll; has held head football coaching positions at the University of South Carolina, the University of Notre Dame, the University of Minnesota, the University of Arkansas, North Carolina State University, and William and Mary; spent a season as the head coach of the NFL's New York Jets; led Notre Dame on a record 23-game winning streak that ranks as the longest in Notre Dame history (and included the consensus national championship in 1988)
Favorite quote: Everyday somebody does something great. Today, make that someone be you.
Favorite books: I love See You at the Top by Zig Ziglar. I thought that was a great book. [Other favorites include] Tough Times Don't Last: Tough People Do by Dr. Robert Shuller, the Bible, and Harvey MacKay's books, such as Swim With the Sharks Without Being Eaten Alive. The only things that are going change you from where you are today to where you will be five years from now are the books you read, the people you meet, and the dreams you dream.
Current personal passion: As far as a passion is concerned, everybody needs four things in life: everybody needs something to do, someone to love, something to hope for, and something to believe in. You have to have those four things. As far as a passion, I love golf. At the same time, whatever I am doing at the time, I want to do it to the best of my ability. I am going to give you my undivided attention, whether it be on the golf course, whether it be making a speech, whether it be doing television for ESPN, whether it be being a grandpa or being a husband. I have a lot of things I have to do, and I just try to do them the best I can at that time. I try to make the necessary preparations...To me, that is a passion: it's whatever you are doing at that moment should be the passion that you have. If you don't have the passion to be doing something, then you shouldn't be doing it.
Dream: I want to own my own airplane, and that is something I have always wanted to do. At my age, you don't even buy green bananas anymore...Whatever I am doing, I want to do that thing the best that I can.
Places in the world you would most like to visit: There aren't very many places in this world that my wife and I have not been to. There are about four or five of them that we have not been to. We haven't been to South Africa. We haven't been to South America much--at least way down south. I haven't been to Russia, and I haven't been to Australia. Those are the only four, but we have traveled so much that every time we travel we are so glad to be home that we don't travel much anymore.
Experiences vital to your development as a leader: There are so many things. The relationship with Father Hesburgh at Notre Dame was a marvelous thing. [One example was] being fired at Arkansas by Frank Broyles when you had the best won-lost record in the history of the school and the second best won-lost percentage in the history of the Southwest Conference (with seven bowl bids in seven years). [Frank Broyles] tells you that he wants you to resign and doesn't give you a reason and that was a great experience because of this: My wife said to me, "We're just going to move on." Two years later when Notre Dame was looking for a football coach, and they called Frank Broyles, he said, "Go hire Lou Holtz." What I am saying is 'That was a great experience. I ended up at Notre Dame because of Frank Broyles.' And I ended up in Minnesota which was a marvelous experience as well. Whether you are talking about good things that happen to you or bad things that happen to you, you can't control what happens to you, but you can control how you react to it. What I think you always do have to understand is that wherever we are, we are there because of the decisions we've made--not [because of] somebody else. If we make bad choices, bad things are going to happen. When you feel that somebody else is responsible for your bad luck, then you are also going to feel that somebody else is the only person that can get you out of your bad situation. When you take charge of your life, [be] accountable, and understand that decisions have ramifications, then--and only then--are you going to be able to cope with everything that comes along...You can learn that through adversity, and you can learn that through other positive things as well.
Turning points in your life: [One was] going to Ohio State under Woody Hayes when he was coming off a bad year. I went to Ohio State as an assistant, and we won the national championship. I learned so much from Coach Hayes about standards, about not accepting mediocrity from players, and that your obligation [in coaching] is as a leader. [That means your obligation] is not to be popular, but it is to make [the people] the very best that they possibly can [be]. On leadership, Father Hesburgh said this to me, and I never forgot it. He said, "I can name you the head football coach. I can give you that title. Titles come from above. I can not give you the [moniker of] leader. People underneath you will determine who the leader is." The leader is somebody who has the vision, has a plan, leads by example, and his part exists in the time of adversity.
You had mentioned that towards the beginning of your coaching career you had 107 goals written down. What happened was I went to South Carolina under Marvin Bass. My wife was eight-months pregnant with our third child, and we spent every cent we had in the bank for a down payment on a home. I [had been] there one month, got up on a Monday morning, and the headline of the state paper read, "Marvin Bass resigns." I said to my wife, "I wonder if he is related to my coach?" After they hired Paul Dietzel [to replace Bass], he didn't retain me, and on my way back to South Carolina, my wife gave birth to Kevin who is now a lawyer. [My wife] went to work as an X-ray technician, and I was a stay-at-home dad. And it was at that time--feeling depressed--that she bought me this book where they talked about goals and made five categories: things you want to do as a husband and father, things you want to do religiously, things you want to accomplish financially, to things you want to do professionally, and just things you want to do personally (i.e. jump out of an airplane, land on an aircraft carrier, go in a submarine, be on the Tonight Show, do magic, make a hole in one, go to the White House for dinner, visit with the Pope). My wife suggested we add, "Get a job." So we made that [goal] 108. Out of those 108, we have done 102. Are there any recent goal additions? Oh, yes, there are six that we haven't done. I'm looking at an airplane. I have always wanted to own my own airplane. You'll add other things, but from the original list of 108 that was written in 1966, [we have accomplished almost all of them]...You just ask what you want to do and what you are trying to do and remember the word "WIN": What's Important Now. Evaluate the past and focus on the future, which will tell you what you've got to do in the present to get it done. Don't complicate life.
Asked to share a story of significance in his life, Lou offers the following: I think that if there is one story, [it is that] I have been married to the same lady for 46 years. This was after she turned me down...We set a wedding date, and she broke it, and later we got married. That was 46 years ago. We have four children: three graduated from Notre Dame and one graduated from St. Mary's.
Barry Alvarez was an assistant on Lou Holtz's coaching staff at the University of Notre Dame. Alvarez is currently the athletic director at the University of Wisconsin. He was formerly the head football coach at Wisconsin where he led the school to three Big Ten conference championships and three Rose Bowl wins. In addition, Coach Alvarez received National Coach of the Year recognition. Asked to offer his thoughts about Lou Holtz, Barry Alvarez shares the following: "I think one of the unique things about Lou is how well he expresses himself. I don't know if there has ever been a college coach who has been able to do what he has done in different situations. [He has] taken over poor programs and within one year had them very competitive and in a bowl game. So much of [his ability to turn around football programs] is [due to] the foundation that he lays and communicates to his staff and to the players. [He teaches people] how to be successful, what has to be done to be successful, and just how to go about your day-to-day work...the right way, so that it shows up in positive results on the football field. To take a [Notre Dame] program that was floundering--it was a below .500 team when [Lou] took it over--and, in his second year, win a national championship with them...takes tremendous leadership, and that is certainly a credit to [Lou]....I have been with some very [successful coaches]: my college coach was Bob Devaney, a Hall of Famer; Tom Osborne was on the staff; I worked for Hayden Fry, a Hall of Famer; Lou [Holtz] will be a Hall of Famer. But [Lou Holtz] has been the most influential person in my professional career."
Urban Meyer, another former member of Lou Holtz's coaching staff, is the head football coach at the University of Florida. He led the Gators to the National Championship this past football season and is a three-time National Coach of the Year. His thoughts on Lou Holtz are as follow: "Obviously I have great respect for Coach Holtz. He is an invaluable resource that I have used since [the] first day I was offered a job. That [first job] was at Bowling Green. A great story I have about Coach Holtz is that I called him late the night that I was going to turn down the Bowling Green job. I told him that I was probably not going to take the job; this was after he tutored me, mentored me, and kind of got me in order to get offered that job. [Here] he had mentored me, helping me [prepare for] the interview before I went in [to it], and I told him, 'I'm probably not going to take [the job].' And [Lou] said, 'Well, why not?' And I said, 'Well, I don't think it is a good job.' And then he put it right on the table. He said, 'Well of course it's not a good job. If it was a good job, why would they would be calling you?' That is true, and that is typical [Lou Holtz]. But he's a resource. When we struggled on the road last year at the University of Florida, he was the first person I called and had him come up and speak to our staff about winning on the road. He is a great leader. He is obviously one of the greatest coaches in the history of the game of college football. A lot of that is because of his leadership and [his] ability to develop leaders."
Harry Rhoads is the CEO of the Washington Speaker's Bureau. Harry offers the following thoughts about Lou Holtz: "Lou Holtz is one of the greatest leaders and motivators in college football history. His passion for doing the right thing--having a vision and a plan to accomplish his goals--is legendary. His accomplishments on and off the field are great examples to thousands of coaches in all fields as well as to business executives the world over."
Harvey Mackay has sold over 10 million books. The books he has authored include Swim With The Sharks Without Being Eaten Alive and Beware the Naked Man Who Offers You His Shirt. When asked to comment on Lou Holtz, Harvey Mackay shares the following: "Lou Holtz cautions his teams not to confuse the sizzle with the steak. Well, Lou is all steak and all sizzle besides. You will never find a package with a better command of leadership and more motivational spark. Whatís so memorable about Louís coaching? The triumphs on the gridiron speak for themselves. Itís the off-the-field preparation thatís astounding: Practicing a huddle to make sure a team has the rhythm and focus to execute the plan. Having players show up for the game bus with a coat-and-tie. Looking sharp . . . and looking to win. These are the little things that make great leaders."
Lou Holtz and Leadership
Most admired leaders: The most admired person would be my wife. She has overcome cancer. She is just a great human being that always looks at the positive things. But as far as leadership, I have been around Presidents: Bill Clinton was my attorney general and my lawyer when I was at Arkansas. I have known him well. I think he has a unique way to lead people. You look at Ronald Reagan. You can [identify] so many different people: Jack Stephens who heads up Stephens Inc.: just a beautiful person with a great philosophy. You can't say "this person is the best leader." There are so many thousands of leaders who don't get the publicity that you hear about, but they are making people better. They have a goal. They have an objective, and they go to it. They make people better...You have an obligation as a leader. You have got to understand that everything you do--good, bad, or indifferent--is going to be magnified when you are in a leadership role. Once again, as I started off this conversation by saying, "You can't name somebody a leader. Titles come from above. Leaders come from below." You better have a vision, you better have a plan, and you better have a passion to see that things get done. Lead by example, and be positive in times of adversity. I can't begin to tell you [about] at South Carolina where we are 0-11 in my first year, and you get down on your knees and you say a prayer before you go into a staff meeting or a team meeting believing you are going to get it done. Twelve months later, we have the second-greatest turnaround in the history of the NCAA. We go to a bowl game and beat nationally-ranked Ohio State. The following year we beat [Ohio State] again, and we finish 12th in the country...What I am saying is that there are thousands of people like that. I am no different than anybody else. There is nothing special about me. You can't pinpoint and say that this guy is the greatest.
Books recommended for aspiring leaders: The only things I ever read are motivational books. I never read fiction or anything else along that line. I always try to read things that will help you get better, and I [have gotten] something out of every book I ever read. The first book I ever read on motivation was The Magic of Thinking Big by David Schwartz, and that was a great book on goals. As overall philosophy, [I would revert back to the books I referenced earlier], See You At the Top and Tough Times Don't Last.
I have heard you say you can pay people to perform, but you can't pay them to excel. How do you get people to excel? Does that need to come from them, or can leaders draw that out of people? ...You can delete people that aren't motivated, but if somebody is not motivated, it is simply because [he or she does not] have any goals or aspirations. The reason so many people do not aspire for greatness is because they do not know how good they can be, or they are afraid of failure, or afraid that they may not reach it. Your job as a coach is to show people how good they can be, and get them to think in terms of getting better in different areas of their life. The trust, the commitment, and the care certainly help. Just getting people to have something they want to accomplish with their life [is vital]. Then, show them how they can do it.
[In the past], you have also talked about the difference before between being successful and being significant. Can you [speak] a little bit about that difference? Success is somebody [who] makes a lot of money, and when [the person] dies it ends. When you are significant--whether it be as a teacher, a leader, a coach, or something else--you help other people be successful. When you help other people be successful, that lasts many a lifetime. I am starting in the process of bringing people back that played for me just to reinforce once again the things that we need to do in life.
You had mentioned a willingness of people in leadership roles to settle for mediocrity in their people rather than expecting greatness out of people. Can you talk a little bit about that? The reason [for that is] that so many people in a leadership role worry about whether people are going to like them (whether they are going to be popular or not). There are two types of leaders: those that lift up, and those that pull down...[As a leader], you are either going to lift people up or you are going to pull them down. By that, I mean [it is not effective when] you want to be popular or else want to show how smart you are, so you criticize everybody else, trying to make them seem like they are not very good...The whole secret is to lift people up: to get them to understand how good they are, what they are capable of achieving, what they can do, and things of this nature. When you are in the leadership role, you can not worry about being popular. Your job is to have standards. If somebody wants to fail, they have the right to fail, but nobody has the right to cause somebody else to fail. If you join a team, you join a business, [or] you bring a child into the world, you have an obligation to do everything you can to make that be successful.
One of the things I have heard you mention in response to [the question of] an important piece of advice you were given is [this]: to be around successful people. Can you talk a little about that, and also about any other advice you would have for aspiring leaders? I think that we live in an experimental laboratory. Just looking around, the things that I have always tried to ask are, "Why is he successful? Why is he not? Why does he do this? Why did he not do that?" I think you learn from people. Now, there is no real guarantee that it is going to work for everybody else. But you learn from people, and you have a philosophy. One of the best things that happened to me is when I was in college, I was forced to write a philosophy of life. And [the professor] said, you can add to it, you can [subtract] from it, but what do you believe? What do you stand for? What are the things you value? What are you willing to die for? What will you tolerate? What won't you tolerate? What kind of parent do you want to be? What kind of husband do you want to be?...You add to it, but at least you have a basic philosophy to live by. I have always had our athletes write out a philosophy of life. I thought it was the best thing that ever happened to me.
For More About Lou Holtz