---
Leader Resource Spotlight:
The Leading Edge web resource from the Fast Company website
The Leading Edge is a terrific resource for leaders that is found at the Fast Company website. Fast Company is a monthly business magazine and accompanying website that offers information including features on leadership. The Leading Edge web resource is divided into the following subcategories: "Leadership Home," "Columns," "Ask the Expert," "Leadership Forum," "Leadership by Topic," and "Recommended Resources." Each category offers a multitude of insights that will benefit leaders.
Chris Trimble, a columnist for The Leading Edge, responds to questions about The Leading Edge:
Describe the benefits of The Leading Edge for leaders:
While most leaders recognize the need to innovate, many focus the vast majority of their efforts on creativity. Our columns give practical advice for going from dazzling idea to actual new business operations.
Describe the challenges that your columns on the Fast Company website address:
Leaders face three fundamental challenges in the effort to convert ideas to new businesses -- a forgetting challenge, a borrowing challenge, and a learning challenge. These are the three sections in our book, Ten Rules for Strategic Innovators. The columns on Fast Company touch on the key elements of each challenge in short, digestible 'pearls of wisdom.'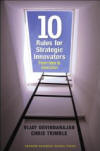 What other resources for leaders can you identify?
Another great resource for readers is our lead article in the May 2005 Harvard Business Review, "Building Breakthrough Businesses Within Established Organizations."
Additional leadership resources and information are available at The Leading Edge: Click here and go directly to the website (opened in a separate window).
---
About the Leader Resource Spotlight: the Leader Network offers the Leader Resource Spotlight feature as a forum to highlight resources and opportunities that exist for leaders.