---
Leader of the Month for April 2006:
Dorah Lebelo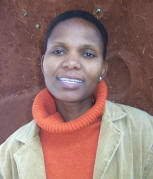 Dorah Lebelo's story (in her own words):
I grew up in a small rural village in the North of South Africa, called Limpopo. I went to school there and only came to Johannesburg city in 1997 to take up a job as an information officer. When I grew up, I always wanted to become a better person. From my primary, secondary and tertiary, I always wanted to be up there with the best, and I was so fortunate to always get that. What I wanted was an "A" and I wouldn't settle for anything less than that. At high school, I used to be crowded with my classmates and friends who thought I had something special to share with them. This progressed with me at university where my room used to be clogged up with classmates who always wanted me to help them understand what the lecturer just taught us. I always enjoyed sitting down with everyone who wanted help, and I really thrived in my performance at university as a result.

What I have learned is that when you reach out to those around you, there is a lot that comes back to you, too. It is not that you are spending all the time helping others and not yourself. I realized that you do get both (helping others and yourself) at the same time. I got rewarded for being myself and doing what I enjoyed most.

Ever since school, I realized that I am a candleholder for my little community, for my family, for the people I serve who are threatened by a vicious circle of poverty. I knew it meant that I had to be courageous and have an imagination not to accept things the way they are, if I were to become something better than the rest in my family and my community. I knew I had a huge task of sharing my experiences and learning with the rest of them so that a way might be made a little smoother for those that might want to follow me. I had the responsibility of encouraging them to take advantage of (and recognize) Lady Luck should she show up on their doorstep one day.

I have since pursued many struggles with my community (from taking mining firms to court for pollution to holding local politicians accountable for service delivery). I am constantly looking out for opportunities for those that are at the bottom end of the pit, while continuing to make a difference through my work at the GreenHouse Project (GHP).

My dream is to establish an education trust that will help successful students in rural Limpopo to get the education that they require. I think a whole lot of possibilities opened up for me because I went through some decent education. It was very hard for me to get my initial university enrollment. I had to stay at home for a year waiting for a good Samaritan to help out, and luckily my grandfather gave up all of his life savings before he passed away in 1993, so that I could enroll for my first year. The challenges that I faced (staying in a shack while studying, going months with no food) encouraged me to work harder to prove myself, and then I got financial aid in my second year. I want to setup an education trust for the young people who are like me, so that they could get some skills that will enable them to break the poverty circle that has trapped their families for many generations. My vision is that these young men and women will hopefully carry on to contribute to the education trust as soon as they get jobs and start generating some income, to keep this going and give many others who will come after them a chance to prove themselves, too.
About Dorah Lebelo
Executive Director of the GreenHouse Project

Bio: age: 32; marital status: single; family: 7-year-old son Tefo
Home: Mokopane, Limpopo Province, South Africa
Current personal passion: To make a difference in people's lives.
Dream: To initiate projects that will enable people to realize their full potential.
Place in the world you most like to visit: Hawaii
Favorite quotations:
"Go to the people, live with them, learn from them, love them. Start with what they know, build with what they have. With the best leaders when the work is done, the task is accomplished, the people will say, 'we have done this ourselves'" -Lao-tzu, China
"We, the generation that faces the next century, can add the…solemn injunction, 'If we don't do the impossible, we shall be faced with the unthinkable.'" -Petra Kelly (1947-1992), founder of the German Green Party
Favorite book: The Last Hours of Ancient Sunlight: Waking Up to Personal and Global Transformation by Thom Hartmann. I like it because it reveals what we have done to our planet and how we can turn things around: a true wake-up call to the human race.
Lifetime leadership highlights: When the GreenHouse Project was threatened with closure at the end of December 2003, it was a very emotional time for all the staff and the board alike. One of the founders who had been running the project since inception was leaving after postponing her departure a number of times. A few other staff members were also leaving in quest of financial security, and I was forced to make a decision as well. I took a few days to go home in rural Limpopo to think through what was about to hit me. When I joined the GHP in January 2000, I came from a land rights organization which laid off its support staff (myself included) due to a lack of funding. This came back to my memory, and I then decided I was going to stay at the GHP to make it work, keep it open and going. And that is exactly what I have done since then. The GHP has been going, operating on a thin budget but with very committed staff. I always try to set an example, being positive and having open conversations with the rest of the staff on how we can make the GHP work.
Dorah's modesty as a leader is refreshing. She offers, "I don't think I'm a self-made leader, I am a leader because there are all these people around me, who believed in me and really gave me a platform to find the leader in me. I don't exist outside the people that I serve; they have created and made the person I am today."
France Maleme, a colleague of Dorah who describes her as endless, says Dorah is out there making changes in their society. France offers a list of ten characteristics of Dorah: an innovator, inspirational, a coach, a mentor, one who resolves conflicts, a peace maker, a team player, exemplary, a reconstructor, and an organizer.
Leon Mdiya, Nexus Programme Manager at the Gordon Institute of Business Science, shares his thoughts on Dorah: "Not only is she inspiring other young women with her brand of participatory and passionate leadership style, but also slowly mobilizing the entire community in trying to 'green' the city."
Description of the GreenHouse Project from the Berkana website: Initiated in 1993 by Earthlife Africa Johannesburg, in partnership with the City of Johannesburg, the broad aim of the GreenHouse Project (GHP) is to develop a clear, practical knowledge base for making greater Johannesburg a green city, based on Agenda 21, from the Earth Summit in Rio in 1992. The GreenHouse Project is housed in a green building surrounded by small plots for community gardening and teaching.
At the GreenHouse Project website, one aspect of the mission of The GreenHouse Project is explained as follows: It is to transform their existing compound into "an inspiring place, which persuades every individual who visits that they do have the power and the skill to improve their own quality of life, while ensuring that our future children inherit a socially just, healthy, diverse and abundant world."
Dorah Lebelo and Leadership
Books recommended for aspiring leaders: The Great Work: Our Way Into the Future by Thomas Berry and The Last Hours of Ancient Sunlight: Waking Up to Personal and Global Transformation by Thom Hartmann.


Most admired leaders: Ms. Wendy Luhabe (South African business woman) because she is the most humble woman I know who has achieved a lot but still remains humble and committed to empowering women in South Africa. Mr. Nelson Mandela for the fearless and pivotal role he played during the struggle against apartheid and what he has done for the people of South Africa thus far.
Traits most important in a leader:
Knowing that great leadership is about creating a whole that is far greater than the sum of its individual parts.

Being able to know what is emerging and yet keep your peace while others discover for themselves.

Keeping an open mind and not being attached to anything.

Creating safe spaces for growth and learning, which encourage open and honest conversations to take place, where each person is encouraged and inspired to speak from the authentic self.

Sourcing power from the person within you, and not from the position you occupy.
Advice for aspiring leaders: Each role you play is an opportunity for you to demonstrate your qualities, to leave your signature in the world. The challenge is to be the same person in each role.

When you make decisions, always ask yourself if you will be able to face yourself in the mirror the next morning. Try to deal with all situations with honesty and openness, and be consistent.

Our deepest fear is not that we are inadequate. Our deepest fear is that we are powerful beyond measure. Usually, it is our light, not our darkness that most frightens us. We often ask ourselves who am I to be successful, talented, and brilliant? Actually, who are you not to be?
Metaphor, story, or analogy for leadership: Leadership is the ability to get things done by getting the right people with skills and passion. It is the ability to get an idea of where people could be more useful in the organization and then place them right there in order to get their maximum contribution in the organization. Get passionate people to do what they like doing because they will give it their best without too much supervision or intervention.
Best training programs for leaders:
Where to Go for More About Dorah Lebelo