---
Leader of the Month for August 2004:
Daniel Burrus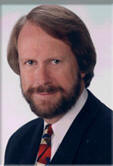 Daniel's story:
Daniel Burrus sees problems and opportunities before they occur and then helps organizations preactively deal with them. No, he does not possess a crystal ball. Rather, he takes the time to envision what he calls the visible future™ based on a scientific approach he pioneered over twenty years ago. Then, he leverages his impressive technological expertise to capitalize on the circumstances and events that will present themselves in the future.
The story of Daniel Burrus is one of a man's unwavering commitment to achieving his destiny. While many of us spend our lives seeking happiness by bouncing from job to job, Daniel has successfully wrapped his work around his passion, achieving great fulfillment in the daily pursuit of his life's work. Daniel's determination has led to his current status as one of the world's leading technology forecasters and strategists.
Following his schooling, Daniel began teaching science to audiences ranging from college students to sixth graders. Enjoying his teaching but having additional aspirations, Daniel became an entrepreneur. He started five companies, including two that were national leaders in their fields within their first year of existence. Although very successful financially, Daniel reached a point at which he realized he missed teaching. So he sold off four of his businesses and became a teacher again. Except this time Daniel would not be teaching in the traditional sense. This time, the world would become Daniel's classroom, and the audience for his lessons would be the world's leading companies and organizations ( see list of Burrus clients).
Since that decision to return to educating, Daniel has established himself as one of the most sought-after teachers the world has to offer. His expertise as a futurist and innovator is impressive. He reaches his audiences in a multitude of ways through his company, Burrus Research Associates, Inc. Consider the breadth of Daniel's achievement and influence: he is renowned worldwide for his accurate predictions of technological change, is a heralded public speaker whose keynote speeches have reached over 2,000,000 people over the past two decades, is a strategist whose coveted guidance has enabled amazing accomplishments for many Fortune 500 companies, is an author of six books and a monthly periodical, and is committed to retaining an educational branch of his company in order to bring his passion for science to school children across the nation. Daniel conveys his insights effectively due to his amazing ability to connect with audiences using vivid analogies and engaging stories.
As a result of Daniel Burrus's strategic expertise, many of the largest and most influential organizations in the world have changed the course of their futures with amazing results. For the positive influence that he has exerted worldwide, Daniel Burrus is the Leader of the Month for August 2004.
About Daniel Burrus
Author, Speaker, Strategist, Futurist, President and CEO of Burrus Research Associates, Inc.
Currently Resides: Milwaukee, Wisconsin, USA (Del Mar, California, during the winter)
Place in the world Daniel most likes to visit: Island of Kauai in Hawaii
Favorite quote: "Failing to plan is planning to fail." -Anonymous
Personal passion: Daniel's mission is to get people of all ages excited and involved in building a better tomorrow using the new tools of technology. This mission is the reason for his education branch of Burrus Research Associates, Inc.
Daniel Burrus and Leadership
Daniel's most admired leaders: Martin Luther King Jr., Mahatma Gandhi, Nelson Mandela, and many more
Books recommended for aspiring leaders: Execution: The Discipline of Getting Things Done by Larry Bossidy, Ram Charan, and Charles Burck and Tipping Point: How Little Things Can Make a Big Difference by Malcolm Gladwell
What made Daniel successful as an entrepreneur? A few things enabled me to achieve success. I looked at my competitors and realized they were very good. So I developed strategies using technology to change the rules of competition with honesty and integrity. I am a redefiner. I redefined the customer, the product, and how you could compete. Also, I learned to "fail fast." Many people stretch out failure over a long period of time. I made my mistakes quickly, learned from those mistakes, and moved on to greater success.
Daniel's thoughts on competition: Competition is way too difficult, and what happens is that people, services, and entire industries become commoditized. Then, businesses are left competing on price. I strive to differentiate myself from the marketplace and de-commoditize. In addition to price, you can compete on reputation, time, knowledge, loyalty, image, service, quality, design, values, experience, and innovation. I use technology to change the rules of how you compete in each of these areas. I redefine the product, the customer, and how you can compete using technology as my tool.
How do you prepare for the future? I accurately predict the future. How do I do that? I leave out the parts I could be wrong about. You need to visit a place that I call the visible future™. It is a place you can clearly see, but you have to take the time to look. Most of us never take the time to look. The visible future is the fully predictable future. The more you look and ponder the future that you know is coming, the more you can capitalize on that future. Rather than problem solving, I look at the visible future and ask myself, "What are the predictable problems that I am going to have?" Then, I use technology to redefine the problem before I encounter it. I disagree with those who say a problem is an opportunity in disguise. A problem is only an opportunity if you see it before it happens. We need to focus on being "opportunity managers" and not crisis managers. Too often, we spend way too much time crisis managing. We need to be preactive to future known events by addressing the visible future. We must solve tomorrow's problems today. When planning for the future, remember that the present is obsolete.
What is your view of the Information Age? Information Age organizations are the problem. To thrive in the 21st Century, leaders need to enable their organizations to become Communication Age organizations. The difference between Information Age and Communication Age lies in the difference between informing and communicating. In order to truly cause action, communication needs to take place rather than mere informing. In the Communication Age, we must learn to extract the knowledge from the information, put it into a dynamic 'digital' form, and communicate it to cause action.
What is the concept you call the Futureview®, and what is its application for people? How you view the future shapes to a great extent how you act today. How you act today shapes your future. Therefore, your FUTUREVIEW will determine the FUTURE YOU. Leaders need to apply the following question to themselves, their employees, and their customers: what is your Futureview and how are you managing that Futureview?
How has the growth of your company differed from that of many other businesses? Early on, I discovered the difference between net income and gross income and focused on the net income. Therefore, my gross and more importantly my net income has grown dramatically. Burrus Research Associates, Inc. has experienced double digit growth yearly for the past twenty-one years. I never had a goal to see how many people I could employ. I used the concept of outsourcing over twenty years ago to form virtual teams of thought leaders that I could pull together on specific projects. Collectively, these thought leaders comprise my Knowledge Network. I call on the appropriate members of the Knowledge Network as needed.
You may not know that Daniel:
Had his first article published as a junior in college
Has never taken out a business loan (he started his first company on a Visa card with a $500 limit)
Began using the Internet for research and competitive business advantage in 1983 (he had to access it through universities due to its limited availability)
Was the first undergraduate student to direct a federal research grant (as a sophomore in college)
Has published his Technotrends Newsletter® for the past nineteen years
Where to Go for More About Daniel Burrus
See Daniel's website, www.burrus.com.
Daniel's highly-acclaimed Technotrends book has been translated into over a dozen languages.
Be looking for Daniel's newest book, High Tech: It's Not the Tools, It's How You Use Them, in 2005. The book will focus on the creative applications of the tools that turn the impossible into the possible.
Daniel's Technotrends Newsletter® is published monthly.
Look for Daniel's quotations in USA Today, Forbes, and Fortune.
Burrus Research Associates, Inc. is located in a suburb of Milwaukee, Wisconsin.
(262) 367-0949 is the phone number for Burrus Research Associates, Inc.