---
Leader of the Month for May 2006:
Dan Maddux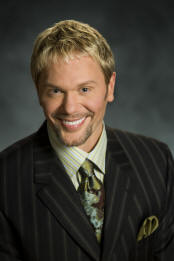 Dan Maddux's story as shared by Brian McCormick:
Dan Maddux has been given the gift of perspective. More accurately, Dan was challenged by a horrendous hurdle, a brain tumor that forced him to confront his own mortality. And he sailed over that obstacle, having gained a unique perspective from his introspective view of the experience.
Dan describes how he endured massive headaches in his early thirties. After meeting with many experts over a period of months, he was finally diagnosed with a brain tumor and told he had two days to prepare for brain surgery (opting not to have the surgery would lead to death within a few weeks). Dan underwent the surgery and fortunately made a full recovery. His positive attitude towards the experience enabled him to derive some valuable lessons that have served him well as a leader. He learned the importance of preparing others to make decisions, so that people in his organization would not be dependent on him when he is gone. He found out how people with disabilities feel by learning of people's reaction to his new appearance (Dan's appearance changed due to the surgery and recovery). Dan describes how people would treat him like he was not as smart or capable because his appearance was not as attractive as it used to be. Dan had never before realized how badly we treat people who have a sign of some kind of disability. Also, he found out who was worth having in his life as some of his friends slipped away. In retrospect, he realizes that this enabled him to clean certain people out of his life that really did not need to be there, and it let him place more value on the people who remained. Dan learned how to handle crises more effectively. This aided him in better dealing with employees and their families who have been in similar situations. Finally, Dan learned that when you support someone else through an illness or affliction, you get so much more back in return. Now, Dan describes one of the most gratifying aspects of his life as a leader as the way in which he has been able to compassionately help employees cope with illnesses and imposed changes such as loss of health.
Dan recognizes what is important in employees. He says, "I think education is wonderful and helps you get your foot in the door. However, it does not help you keep a job. Common-sense creativity and your ability to effectively deal with people are going to be the skills that allow you to succeed." He also notes the important distinction between behaving in a childlike rather than a childish manner. He talks about how it is the childlike qualities that make us creative and the kind of team members that people want to work with. And it is the childish behaviors--that you can still have as an aged person--that tend to disrupt groups and drag people down.
Dan embraces the vital role that service plays for the leader. He talks about how he sometimes turns roles upside down in his organization, depending on the event. Dan says, "We are all serving something." He talks of the importance of just defining what you are serving. He tells the story of how he learned to operate all the machines and complete the many necessary menial tasks when opening the new APA facility in Las Vegas. After baking cookies at an early event, he had a few participants ask him why he was the one completing the tasks. Dan replied, "I can't expect anybody else around here to be willing to provide service or to learn how to use the equipment correctly if I don't know how to do it myself." While watching him complete a menial task, another person asked him, "Is this what you do for the APA?" Dan's apt response was, "Well, this is what I do today." That is what leadership is all about: Doing what needs to be done at the time in which action is required. For his leadership, Dan Maddux is the Leader of the Month for May 2006.
About Dan Maddux
Executive Director of the American Payroll Association
Bio: single; in his 40's; lives in San Antonio, New York City, and Las Vegas. Dan describes his unique living situation: I am from the Midwest, and I grew up in Kansas City, Missouri. I left home at age sixteen and made my way to New York City because my goal was to be an actor. My home was New York City for years; however, as our organization has expanded (currently with 22,000 members and 135 local chapters and relationships with organizations worldwide), I do not really find myself anywhere very long; that is why I split my time living in New York City, San Antonio, and Las Vegas (the APA has operations in all three cities). If I stay in one place for more than a week, I am lucky. Additionally, I even bought an apartment in Paris last year. I really consider that I can always maintain my sense of self, but I can fit into many kinds of environments; in that respect, I am very much a chameleon. One of the vows I made to myself a long time ago was that wherever I am on any given day, the people I am with get my undivided attention. That is one of my points of greatest pride: I never want anybody to think I would rather be somewhere else. The hardest thing to balance is being in the moment and being there with whomever you are with at that time, rather than thinking about where you have to be tomorrow.
Current personal passion: I am a very artistic person, and I have a passion for interior design. There is a lot more to interior design than meets the eye: You have to get into the emotional wants, needs, and desires of who you are designing for, how you want people to feel, and what sorts of impressions you want people to have. I have applied a lot of that "under the hood stuff" to some of the projects that I have done for APA, and while I will work with an architect, it tends to be a very collaborative process. In our building in San Antonio, we created an environment that makes people feel welcomed and important from the minute they walk through the door. There is so much more psychology that goes into creating an environment than what people understand at face value. With my living in all these places, I have the luxury of creating different environments in all the places that I live. When I bought my Paris environment, I bought it specifically to decorate to create the ultimate Parisian experience. I planned on renting it out when not using it myself. Recently, two women who stayed in my apartment in Paris said, "This is the most incredible thing that we have ever experienced." For that particular project, I had to think, "Who am I trying to attract? Who is the customer that is going to be renting this?" And then I needed to create the experience around the answers to those questions. For our training center in Las Vegas, I needed to create something that was unique and memorable so I came up with something that was '70's retro modern. That site can be seen online. And one of the things that we are going to be doing is opening up a facility that we are going to call Meet. It is going to be themed around networking analyses and terms because it is a place for people to meet. We are creating a unique environment that is memorable. People are not necessarily going to remember your name; for example, in our situation with the American Payroll Association, we know when to put our name out there and when not to put our name out there. If we provide a unique, rewarding, stimulating experience for people, they are going to say, "Where did this come from?" Then, secondarily, they are going to find out that it came from the American Payroll Association. Then they might be willing to learn more about us. So through the back door we may actually get a residual value from them because our facility--what was in it for them--provided them enjoyment. So I think that there is layered approach when we are doing some of our initiatives: There are some things you do where your name will be in the forefront, and then there are some things you do where your name will only be a distraction to the customer. That is part of the new challenge coming up for us in Las Vegas: designing a facility that competes on an aesthetic level, an emotional level, and on how it titillates people in general.
Dream: It is actually probably my dream and my nightmare: architecture. I love all kinds of architecture, and I have a quest for learning more about it. I have this dream of fixing and rejuvenating things and giving them a second life. I believe in second chances and apply that to everything I do. For example, I bought a church about four years ago: a historic rock church in the hill country of Texas. That is what makes me a little bit different as a real estate investor than somebody who looks at things with a really practical sense. I loved the architecture and knew somebody needed to take care of it, so I bought it not exactly knowing what I was going to do with it. I quickly focused in on the fact that the wedding industry would be a good industry to renovate it for and decided to market it to the wedding industry. Today I have this facility called Comfort Cloisters: It is a historic rock church with a catering hall, a cottage for the party to get ready in, gated grounds with gardens, a covered patio, and gazebos. The community loves me because this church meant a lot to the community, and they were able to sell it to somebody that embodies their values. I let the congregation that was there at the time remain there for a year rent-free as a transition—that was my way of giving back to the community—and I host a lot community functions there, too. I dream in 3-D, and I will have dreamed a vision for completely reworking a building if I see one that needs it.
Place in the world you most like to visit: Right now it is Paris. I have a reason to go there often as I have my apartment in Paris. It gives me the opportunity to learn more about the city from the eyes of a resident rather than feeling like a tourist. I do not speak French and think trying to learn the language humbles you to have the experience of what it must have been like for some of our ancestors (coming to America). It also is similar to the experience that some people even have today in America when we treat people like they are not as smart as we are because they struggle with our language. France is a wonderful country in the fact that it is a different pace. I would like to still be involved in big-city environments when I am an older person, and Paris is one of those cities that is still geared around an elderly person.
Favorite quotation: The question, "What's in it for me? What's in it for whomever I'm trying to sell to? Market to? Influence?" The question I am always asking our people internally is, "What's in it for the people we are working with?" We, as a people, are all always selling something. Whatever you are selling, whether you are in a direct sales environment or marketing or public relations or education—it does not matter what you are in—you are always serving something or selling something. So often people will create marketing pieces making decisions from their own vantage point rather than getting into the mindset of the person that they are trying to influence or relate to. The motivating factor does not come down to money for everybody, but you have to answer "What's in it?" for whomever it is that you are trying to please, sell to, or market to. So often when people are doing their research, they never just stop to get into the mindset of who they are trying to reach and say, "What in it for them?" I really do find that this one simple phrase can be applied to so many things in life and provides you so many answers.
Favorite books: When it comes to personal enjoyment, the six Tales of the City books (by Armistead Maupin). They were life-turning books for me because they have helped me establish and accept that some relationships are only meant to be for a certain period of time and some relationships are meant for the long haul. When you apply that lesson of varying durations to different relationships at work, I have been here (at APA) for 24 years, and we have a lot of employees who have been here for over 10 years. We have this whole group that has been here over 15 years; and then of course we have this sector that comes and goes every 3 years like many employers do. There is a lot to gain and learn from those present in your organization for a short period of time, but certainly you need to have a good understanding of the separation among the people that will be there for the long haul and the people that are only going to be present for a shorter duration of time.

For a business book I chose Susan RoAne's How to Work a Room because interpersonal skills and the ability to deal effectively with people are hot commodities in the workplace.





Lifetime leadership highlights: When I took this organization over it was in financial crisis, and I had to get on the phone and make promises. Eventually, we got to the point where we were able to purchase our first building (our headquarters in San Antonio on December 31, 1999). I remember when I started in the organization, and we were in one room that we rented and were using boxes as furniture. To end up taking over a company that has financial problems and ultimately be successful enough that you can actually buy a building was a huge sense of accomplishment for me. I know that whatever decisions we make are going to impact our members and the people that work for us, so I make the decisions based on what is best for those stakeholders. My goal is to make sure that by the time I leave this organization one day, it will be so strong financially that my departure will not matter as much: That is the legacy I want to leave behind.
Sue Darring is a board advisor to the APA and a past President of the organization. She shares the following thoughts about the leadership of Dan Maddux:
"Dan is a great choice for Leader of the Month. He is a person of great vision, great wisdom, and great compassion. I find every opportunity to work with him both illuminating and exhilarating, as I have for the last 20-plus years.
When I first met him, he was a really young man. We were attempting to start an APA local chapter in Chicago. One of my colleagues was a major contributor to the cause, but a difficult person to work with, and her lack of people skills was causing enough stir to cause distractions among the group. I was too close to the process and needed some guidance. I called Dan. He spoke to me at length about how to bring someone who is disruptive back into the group so that productivity can be restored. I thought he was so insightful for someone so young. The ability to find the win-win in every circumstance is one of Dan's many talents. He treats people with value, dignity, and sees the talents in each of us. He has an uncanny ability to bring the very best out in people.

Dan is an innovator with multiple talents. He is very creative, and like in the movie The Sixth Sense, Dan "sees things" that are not there (to most of us). Then he grows those visions and collaborates with experts and learns and shares and executes in a most hands-on fashion, embracing only the highest standards and ethics. I have watched Dan transform people, places, and things.

Under Dan's leadership, the American Payroll Association has become a role model for other professional associations. The people who work for Dan know they will have opportunities to thrive and develop new talents while being supported, guided, and recognized. Dan gives and receives loyalty generously.

The members of the APA who volunteer are given opportunities for growth that not many people have in a payroll position. Those of us who speak for the APA are provided world-class speakers' training. One only need attend one of the APA's annual conventions (Congress) and see the new and not-so-new payroll executives who confidently walk up to the podium and give their professional-quality speeches that almost always include (in some words), "Everything that I have given to this organization, I have received back 100 fold."

That is what Dan Maddux does. He expects the best from people. He gives back more. He stands for something. He sees the possibilities. He spends his time on building and not destroying. He is the epitome of great leadership. He is what the world needs so desperately."
Dan Maddux and Leadership
Books recommended for aspiring leaders: I love some of the small books that have come out in recent years like Fish and Who Moved My Cheese. I like the simplicity of them because sometimes we can get so bogged down in management theory or protocol. Sometimes when people aspire to be better leaders or better managers, and they go out and read theory, they absorb some of that theory and what current trends are. However, that often does not take them back to the essence of what really matters: small baby steps that apply more to common sense and dealing with people and creativity. And even in some cases needing to get over themselves! APA is not an organization where there is any ivory tower. We may have an organizational chart, but when it comes to common respect, everybody is really at the same level. Sometimes as a manager you are put to the test of finding what people are good at when they, themselves, do not even know what they are good at. Then, you need to allow them to focus in on something that is their core competency or passion. That is why I like some of the books that have come out and describe things in very simplistic terms. I think that for the masses they have important messages, and those messages are introduced to them in such a way as to make it easier for them to implement in their lives today.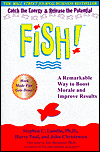 Most admired leaders: One of them is Rudy Giuliani and the other is Bill Clinton.
I arrived in New York City in 1982 when I got off the train with a suitcase and $200. I lived in Times Square for several months and, although I did not realize it at the time, it was a horrible place. Under Giuliani's leadership, the city had a renaissance to where I can say that I am really proud that I am a part of New York City. I am glad that I went to New York City when I went; it is great for a young person to be able to make it there. If you can make it there, you can make it anywhere! Even before 9/11, Rudy Giuliani did so much for the city that so many of his predecessors neglected to do. He was willing to go up against people and fight for what he thought was correct. And then with 9/11, his leadership under pressure was exposed. That whole process really showed what a strong leader he was.

I realize Bill Clinton is a controversial choice as a leader, but I could not help thinking when I saw Bill and Hillary Clinton speak that they are some of the most charismatic speakers I have ever seen. Hillary just owned the platform when she was speaking: the level of confidence she demonstrates and how influential she is impressed me to no end. I just have nothing but admiration for the public presence the two of them provide. I love the passion that Bill Clinton exhibited as President, and I would rather have a leader with passion for whatever he or she has brought to the table than a leader without passion.
Advice for aspiring leaders: Credibility is everything: It takes years to develop credibility, and it takes just one mistake to toss a good portion of it away. Sometimes people are very cavalier with credibility. They think that once you have achieved it, no one can take it away from you. Aspiring leaders need to realize that you are going to constantly be put to the test of whether your credibility is real. Leaders need to know and recognize that credibility is everything, but it is not something that you acquire and you get to keep: You earn it every day.
Traits most important in a leader: That goes back to the credibility but also to common-sense creativity and the ability to effectively deal and work with people. Common sense and the ability to effectively deal with people are hot commodities; you can always find people who have education, but people that truly embody and embrace those "people" skills are difficult to find.
What and where are the best training programs for leaders? The best scenarios are real-life scenarios. I send my employees to negotiation classes because negotiation skills across the board apply to everything we do here. I send them to Dale Carnegie courses if I feel like it is going to benefit them. We have a Toastmaster's Group here at APA. We challenge our employees to have opportunities to speak in public whether it is as an administrator for a program or actually speaking at a workshop. I would say to a leader that the ability to speak in front of people and make a good presentation is essentially important. I have been to a lot of Patricia Fripp's classes over the years, and I have sent my employees to them as well. When you get past the barrier of effective public speaking with leaders, I think that it opens all sorts of doors for them. We have all seen those leaders that have been very colorless when they speak, and people will say, "Oh, they were just a real snob." But when it really comes down to it, people's behavior normally has nothing to do with snobbery and everything to do with their own insecurity.
Financial knowledge is also vital. One of the things that I believe that all companies should do--and one of the things that we do as an organization is bring in financial counselors. We provide employees some one-on-one assistance from people who can help guide them, so they do not have to be embarrassed about their financial situation. I feel that by providing that financial training, we may be helping to alleviate some of the burdens employees have in other aspects of their life. Financial training, when coupled with teaching people how to understand the bottom line, is key. If employees truly understand how their function applies to the bottom line, directly or indirectly, they actually have a quest to see how we are doing. At APA we have raised a culture of people understanding finances at work and at home.
Another training opportunity is to learn from your boss. Even if you have a good boss, not everybody is perfect. Still you are going to see flaws in what they do, and you are going to see an excellent foundation for you to learn from in what they do. Along the way you are also often going to have "bad boss" experiences. There is a lot to learn from those bad-boss behaviors out there for people if they are willing to take them, dissect them, and ask, "What would I have done differently?" Instead of being annoyed by bad-boss behaviors, why not consider them your most valuable experience? Take the time on your own to dissect them and learn from them to know what you would do if you were in the same situation; if you do not do that, one day you may be in the same situation, making the same mistakes.
Where to Go for More About Dan Maddux